Why Are we tangled Humans?
tan·gled - /ˈtaNGɡ(ə)ld/ - adjective - twisted together untidily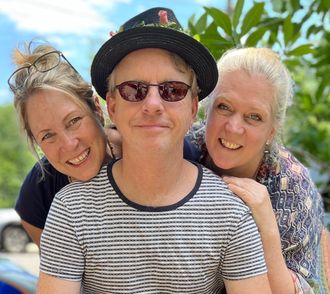 "This is a collaboration made in Folk Heaven!"
Tangled Humans is a musical collaboration between critically acclaimed performing songwriters Marion Halliday, Meghan Cary and Peter Farrell…and a tangle of other talented humans encountered along the way.  Recognizing that we are all connected, we celebrate our shared humanness in song. We embrace the fact that we are all unique, yet citizens of the same world, sharing this human experience.
The Musicians and Their Music
Based out of Philadelphia, Meghan and Peter have been sharing their music across the US and parts of Europe for over a decade. Beloved on the Philly music scene for their boundless energy on stage, and uplifting message, Meghan and Peter serve up joyful folk-rock power ballads alongside intensely emotional songs to create an experience akin to the famous Philly pretzel - multiple genres and emotions twisted together for a delicious treat. As John Platt of WFUV extols: "These times require songs of compassion and commitment, and Meghan has several which inspire us to reach our higher selves. And she sings them with such infectious joy you can't resist joining in." 
Hailing from Kentucky, Marion brings a taste of bluegrass and bourbon to the mix with her original music. While inspired by her Appalachia roots, Marion's songwriting finds its purpose through the gritty and modern world we all must navigate, with its challenges and also its opportunities.  One critic, writing specifically about Marion's song 'Thoughts and Prayers' described it as "miraculous, her voice is a new beacon of peace in this troublesome time."  - Joe Timmons, Indie Pulse July 2019. 
Together, these artists share a common commitment to the ultimate design and purpose of music - to not simply uplift and unite us, but also be a catalyst for positive change in this complicated world we are all tangled up in together. We invite you to join us as we step through self-made barriers that would separate us, and dance together to the tune of our common humanity!